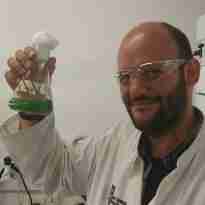 Post Nominals
BSc, BHon, MSc, PhD
Biography
Research Fellow, School of Pharmacy & Life Sciences, RGU (2017)
From 2016-2017 Research Fellow, Federal University of Ceará, Fortaleza, Brazil.
Remote Research Fellow RGU (2015-2016)
Scientific Officer South Australian Water Corporation (2012-2014)

Outreach activities include:
Invited lectures at Queen's University Belfast in 2021, (virtual) Esa Unggul University in Jakarta, Indonesia in 2019, at the Federal University of Ceará in Fortaleza, Brazil in 2019 and at the Federal University of Rio de Janeiro in Rio de Janeiro, Brazil in 2018.

Workshop on sampling and cyanobacterial toxin analysis and TOC analysis at the Cearese Water and Wastewater Company in Fortaleza, Brazil and the Federal Institute of Ceará in Maracanau, Brazil in 2018.

Customer water quality perception organoleptic testing in Fortaleza, Brazil in 2017 and Adelaide, Australia 2013 and 2014.

Organised outreach events at the South Australian Water Corporation Learning Centre in Adelaide, Australia in 2012, 2013, and 2014.

Participated at outreach events in Adelaide Exhibition Centre on "Off-tastes in tap water" and "Top-up from the tap!" in 2013 and 2014.
Research Interests
Monitoring and controlling natural and synthetic pollutants in potable water
Wastewater treatment
Water quality in aqua culture
Low-carbon water purification
Conventional water treatment improvement
Low carbon and low technology solutions to water quality challenges
Tap water quality perception
Microplastics as vector for aqueous microbial toxins
Removal of pharmaceutical residues and biocidal agents from aquatic environments at source
Teaching and Learning
Teaching in Toxicology and Environmental Analysis in the School of Pharmacy and Life Sciences, Robert Gordon University, Aberdeen, UK in 2019 and 2020.

Postgraduate module on 'Publishing in international journals' at the Department of Hydraulics and Environmental Engineering, Federal University of Ceará, Fortaleza, Brazil in 2016/17.